Cook's Carpet & Flooring: Your Trusted Family-Owned Flooring Store in Murphy and Waynesville, NC
For generations, our family has proudly owned and operated Cook's Carpet & Flooring, weaving our story into the very fabric of the towns that we call home, Waynesville, NC and Murphy, NC. Since our inception, we've been crafting personalized flooring solutions that stand the test of time – much like the strong bonds we've formed with our cherished neighbors. Our community has become family, and our story is as much ours as yours.
Experience the Finest Flooring Solutions with Cook's Carpet & Flooring in Murphy, NC & Waynesville, NC
Our journey began with a passion for quality flooring and a commitment to providing exceptional service to our community, Murphy, NC.
Our Humble Beginnings
In the early 70s, Hoyt Palmer, Alice Cook Palmer, and Arvil Cook (Fred's Uncle) established the first carpet and flooring store below Murphy Medical Center at Old Smithmont. Back then, a young Fred Cook, aged 14, lent his hands to flooring installations, unknowingly setting the stage for his future in the industry.
A Legacy Continues
Fred's dedication led him to take over the business in 1989. With a strong work ethic and a keen eye for excellence, Fred purchased Arvil Cook's store, laying the foundation for what we now know as Cook's Carpet. Through hard work and determination, Fred honed his skills and even earned a Flooring-Craftsman-B Certificate from Dekalb Community College.
Expanding Horizons
As years passed, the Cook family's business flourished. The store expanded its reach, welcomed new family members (Chuck and Jill), and witnessed the emergence of the next generation. Chuck Cook (Fred's son), following in his family's footsteps, ventured into the industry and established his own carpet and flooring store in Waynesville, NC in 2012. In 2016, the Waynesville location proudly joined the esteemed Carpet One Floor & Home Cooperative.
In 2023, an exciting transformation took place. Chuck and his wife, Barbara, acquired the Murphy, NC store from Fred and Wanda, marking a new chapter in the business. The showroom underwent an impressive remodel and joined Carpet One. This revamp embodies our dedication to providing the finest flooring solutions while embracing innovation.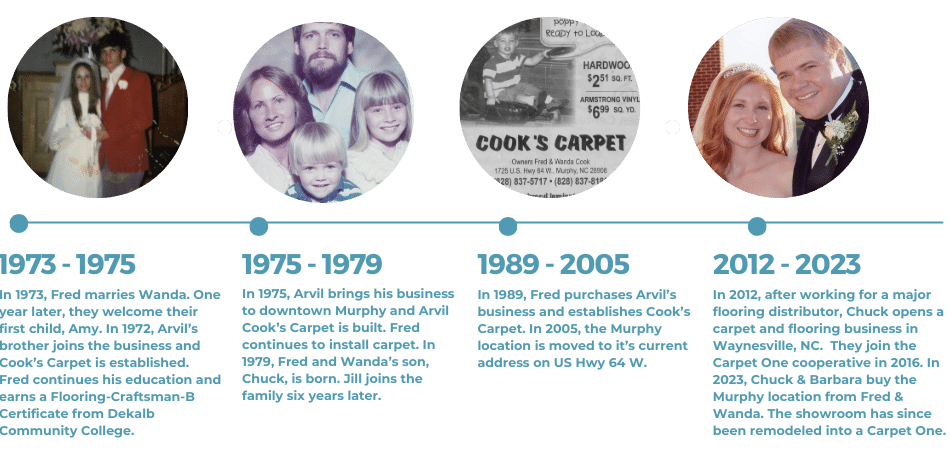 Your Community, Your Family, Your Flooring Destination
As a family-owned business, we take immense pride in curating a diverse range of flooring options that reflect the unique character of Murphy and Waynesville. Our presence here stems from Chuck and his family's genuine passion for these communities. Chuck's early exposure to flooring evolved into a career, with years spent as a flooring representative specializing in durable surfaces. He fell in love with the people and spirit of Waynesville, NC and thought the town needed a high-end flooring store.
Our expert team understands the distinct needs of our local clientele. With decades of experience and an intimate grasp of the region's needs, we're your guides to the ideal flooring that resonates with your home and lifestyle. Being part of the Carpet One network opens doors to industry-leading brands and products. We carry the best quality flooring in our showroom. From style to durability, you will find the right flooring here. Our installers are also some of the best you'll find, and with great warranties and the Beautiful Guarantee, you are sure to be pleased with your flooring installation.
Explore Our Wide Range of Flooring & Home Products in Northern NC
We've got you covered with an extensive selection of flooring products designed to elevate your space. From classic comfort to modern durability, we offer a variety of options to suit your needs. If you have any questions, please contact us. Our flooring experts are eager to help you!
Our Flooring Selection Includes:
Carpet: Experience plush comfort with our diverse range of carpet options.
Vinyl Flooring: Discover versatile and resilient vinyl flooring for various spaces.
Hardwood Flooring: Add timeless elegance with our stunning hardwood flooring choices.
Laminate Flooring: Get the look of wood or stone without the maintenance, thanks to laminate.
Tile: Elevate your space with the beauty of tile – we offer selection, installation, and remodeling services.
Tile Services: From custom tiled showers to elegant backsplashes, our services go beyond installation.
Custom Stair Runners: Enhance your stairs with our custom runners for a touch of sophistication.
In-House Binding: We provide in-house binding to personalize your flooring experience.
Expert Guidance: Our flooring experts are here to assist you in making the best choice.
Additional Services Include:
Special Financing
Free Project Estimate